The first round of the O'pen Skiff EuroChallenge has just drawn to its conclusion on the beautiful island of Sicily, in Palermo, a legendary spot for all wind and water sports in the Mediterranean.
65 entrants made the long journey to Palermo for the first round of the O'pen Skiff EuroChallenge 2019 odyssey, taking O'pen Skiff racing to the far-flung corners of the continent and giving everyone a fair chance. International competition, measuring your skills, all using the same equipment, anything can happen!
After two days of light to moderate conditions, and hard work, day three blew in some serious wind, enough for the race committee to call a halt after 9 rounds of racing and announce the results of this first round of the EuroChallenge.
It won't come as a surprise that local sailors dominated this opening round, but that shouldn't detract from the simple fact that, whoever you're up against, you have to win to win.
So, big congratulations to Salvatore Mancino, Federico Quaranta and Domenico Pio Schiano Di Scioarro, the 1-2-3 of the U13 opening round. And to Manuel de Felice, Alessandro Guernieri and Lorenzo Mancino, the 1-2-3 of the U17 category.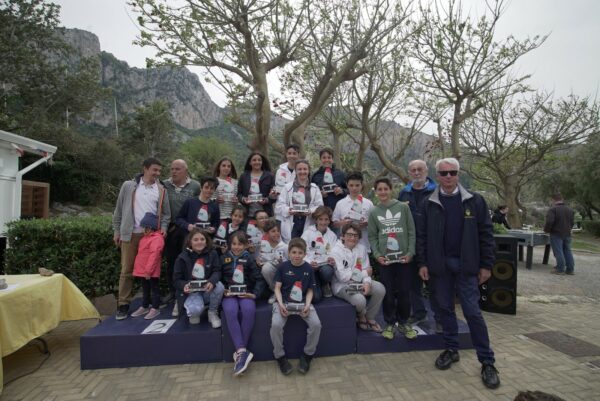 But more than that, big up to the girls, close to the leader boards. Jeanne de Kat (FRA), Janka Dmochowska (POL) and Sophie Macaluso (ITA) were right up there and will surely make their mark in more familiar waters in the following rounds.
It's been an excellent week in Palermo, great racing and the perfect O'pen Skiff spirit.
Next stop Sopot, Poland, final round in Mandelieu, south of France.
The challenge is on!
You can keep up to date with the EuroChallenge results and rankings at the EuroChallenge website at: https://eurochallenge2019.openskiff.org
U13 Overall
1 SALVATORE MANCINO ITA 8729
2 FEDERICO QUARANTA ITA 9382
3 DOMENICO PIO SCHIANO DI SCIOARRO ITA 8919
4 LUIGI VENIERO ITA 9690
5 RICCARDO MICHELOTTI ITA 9740
U13 Girls
1 SOPHIE MACALUSO ITA 10306
2 ALICE DESSY ITA 10489
3 ERIBEA LETIZIA CANAVIZZI ITA 9716
U17 Overall
1 MANUEL DE FELICE ITA 10054
2 ALESSANDRO GUERNIERI ITA 10537
3 LORENZO MANCINO ITA 9520
4 PIETRO CARDELLI SMR 8873
5 LORENZO LUTRICUSI ITA 7011
U17 Girls
1 JEANNE DE KAT FRA 10525
2 JANKA DMOCHOWSKA POL 9360
3 ALESSIA TIANO ITA 10173